When:
February 3, 2018 @ 8:15 pm
2018-02-03T20:15:00-08:00
2018-02-03T20:30:00-08:00
Where:
26 SW Salmon St
Portland
OR
USA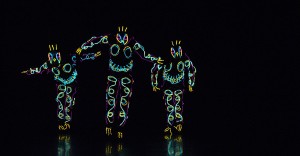 Owl and the Serpent
Owl and the Serpent utilizes proprietary technology designed exclusively for RDT by electrical engineer Ben Peoples, a computer on the side of the stage, synched to a music score featuring classical, tango and modern music motifs, "talks" to the light-wired costumes, sets, puppets and props so that the EL wire along with the dancers "dances" to the music score. The audience is transported into a world of wonder and surprises where humans morph into animals, flowers grow to amazing proportions and defy gravity with a humorous "Waltz of the Flowers" variation, serpents and owls disembody and reassemble or fall and recover "matrix" style in the blink of an eye. The fully animated backdrop changes regularly throughout the show as well, beginning as a tree in moonlight, populating with fruit or menacing with slithering serpents as the performance continues. Constant visual surprises and athletic virtuosic dancing delight audiences young and adult alike.